Travel and hospitality
Participants are responsible for their own travel arrangements and costs. For the convenience of attendees, a hospitality website has been created for Summit participants. It provides information on obtaining a Kenyan visa and how to obtain emergency services. It also contains links to services such as discounted flights, hotel accommodations, transportation within Nairobi, as well as dining and other optional activities. The information on this website is provided by Media Edge Consortium, an independent contractor providing services for the Nairobi Summit on ICPD25.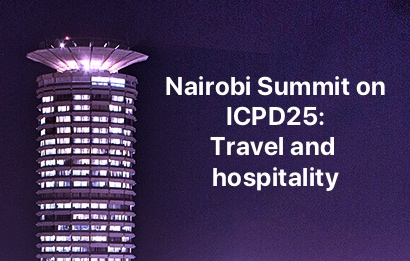 Please note: The hospitality website is provided "as is" without any representations or warranties, express or implied. The co-conveners of the Nairobi Summit on ICPD25 are not responsible for the contents of this site.
Visa information
Participants are responsible for making their own travel arrangements, including obtaining a visa to enter the Republic of Kenya. A visa can be obtained from the Kenyan Embassy/High Commission in each participant's country of residence or in the nearest embassy within their region.
The Government of Kenya has waived the visa fee for Summit participants; participants should include their registration confirmation letter in their visa applications.
Visa on arrival is also available to participants from certain countries. For others, no visa is required. Kindly refer to the matrix here, or see the hospitality website for more information.